Carl Brashear was a United States Navy Sailor, but he's more well-known in history as the first ever African American to become a US Navy Master Diver. To commemorate this incredible legend, Swiss watchmaker brand Oris has created the limited-edition Carl Brashear Chronograph, with only 2,000 pieces of its kind in the world!
Born in Kentucky, USA, Brashear joined the US Navy at the tender age of 17, clawing his way up through the naval ranks to graduate from the Navy's diving programme in 1954 despite facing terrible racial discrimination.
During a mission to salvage a hydrogen bomb from the sea, Brashear lost the lower part of his left leg to an unfortunate accident. Instead of giving up, he made it his personal mission to keep persevering, becoming the US Navy's first amputee diver, and eventually qualifying as the first African American Master Diver in 1970. This was no easy feat; the training for Master Diver certification involved completing a gruelling assignment programme, including dives to depths of 300 metres (1,000 feet)! And Brashear took it all in stride with a prosthetic limb.
After 31 years of service in the Navy, Brashear retired in 1979, inspiring many like-minded young men who looked up to him as a role model. The movie 'Men of Honour' was made in his honour, with Cuba Gooding Jr. bringing Brashear's determined spirit and strong will to life on the silver screen.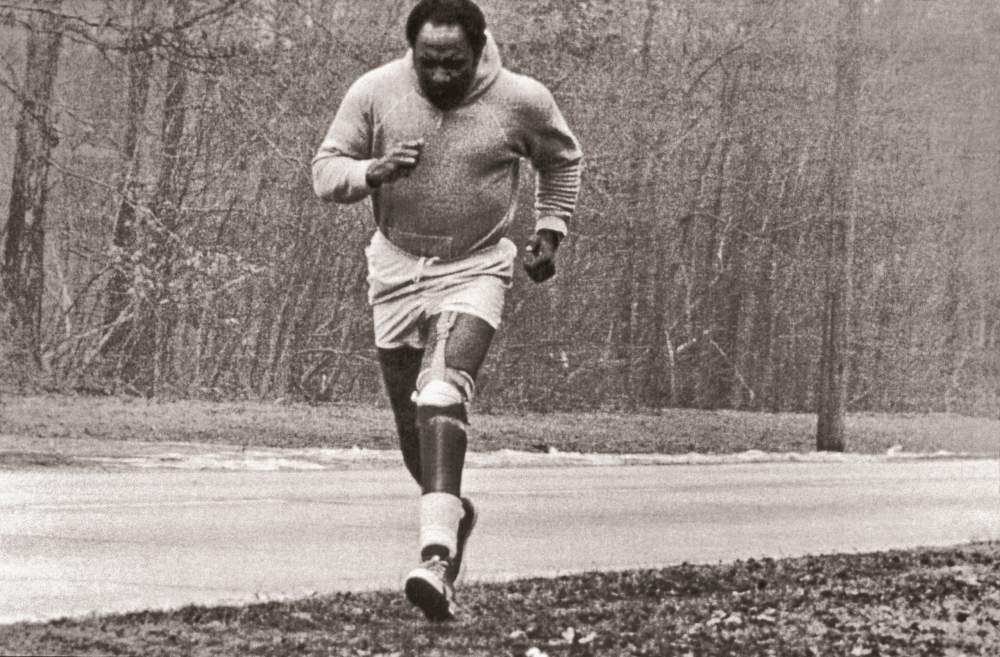 Oris Carl Brashear Chronograph Limited Edition
This bronze-cased, two-counter chronograph is Oris's second limited-edition watch made in Carl Brashear's memory, the first one being introduced in 2016. Designed based on the iconic Oris Divers Sixty-Five, the watch is cast in bronze to represent the early diving equipment used by Brashear, which was also made of bronze. With its natural warmth, bronze ages over time, developing a patina that makes each watch bespoke to the wearer.
Inside the watch is Oris Calibre 771, a special movement based on Selita's SW 510, which appears in the collection for the first time. The formidable 48-hour power reserve, together with a 30-minute counter at 3 o'clock and small seconds counter at 9 o'clock, complement the handsome blue dial.
Finished with a brown leather strap, the Oris Carl Brashear Chronograph comes in a special wooden presentation box, complete with a commemorative coin issued by the Carl Brashear Foundation. The stainless steel case back of the watch is embossed with a vintage diver's helmet and Brashear's famous mantra: "It's not a sin to get knocked down, it's a sin to stay down", reminding us that no matter what challenges life throws in our direction, we should always fight back and emerge stronger than ever.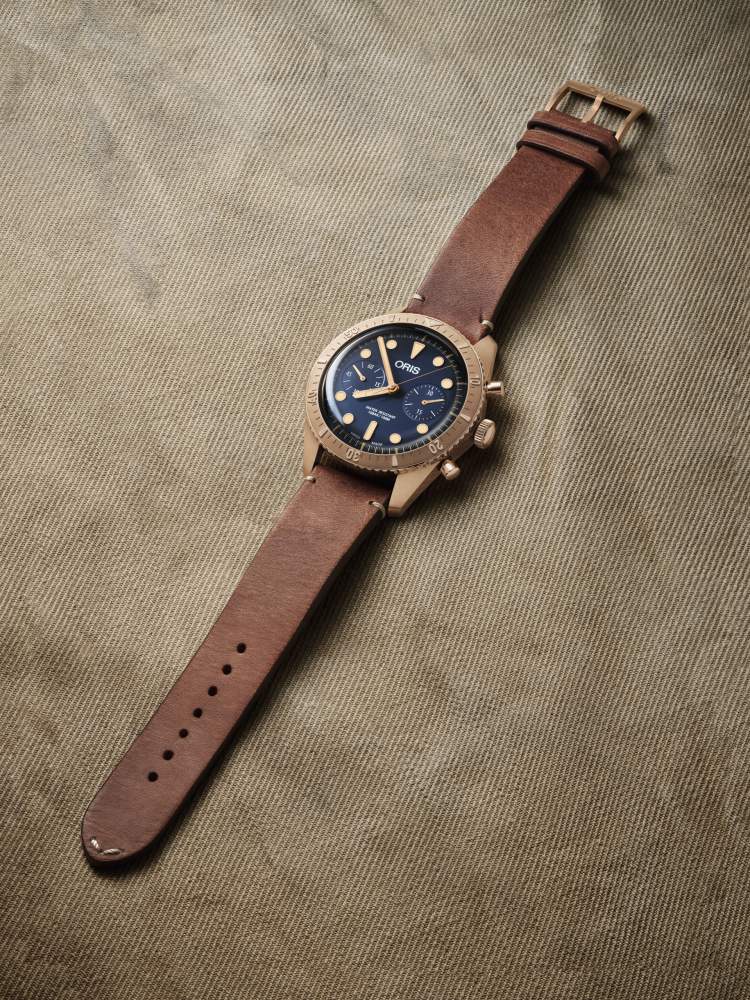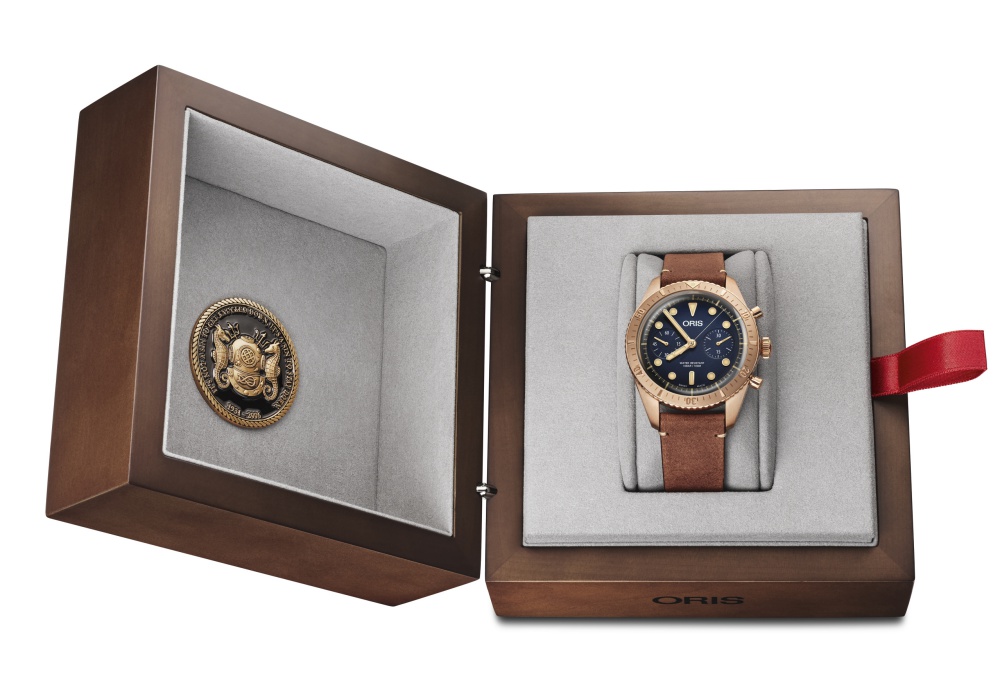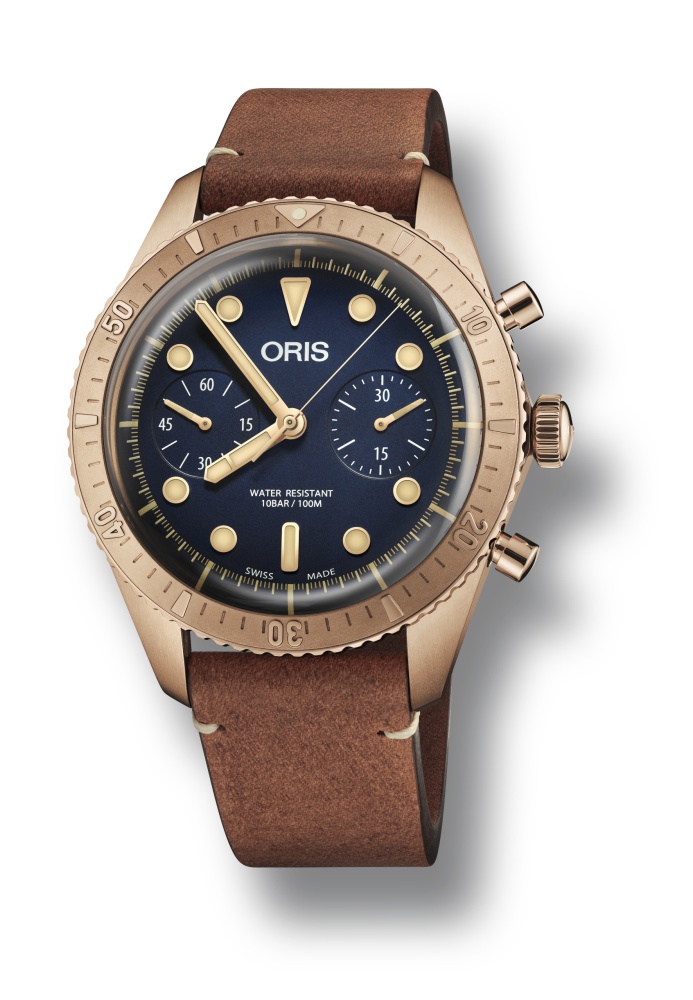 ---
Further Reading: The never-ending innovation and passion of Bell & Ross